There are different types of abortions and we offer both surgical and non surgical abortion methods as well as various methods to prevent pregnancy including intrauterine device, UID (Mirena IUD, ParaGard UID)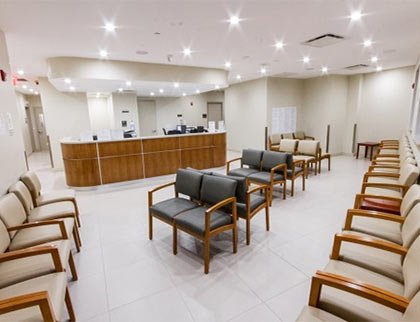 We believe that patients may have a wide array of questions prior to having a termination of pregnancy. As medical providers, our job is to facilitate answers to all those questions and provide you with all the necessary abortion information you need.

The following abortion information has been designed to answer the most common questions that you may have.
We invite you to read the information below carefully and want you to feel free to speak live with our abortion doctor or any of our trained medical assistants by calling 718 369-1900.
We are the only NYS approved Ambulatory Surgical Center dedicated to women's health in Brooklyn, NY. We provide the following services:

1 day abortion (up to 14 weeks). Most of our patients can return to work or school the day after the procedure
2 day abortion (15 – 24 weeks). This procedure requires a two-day visit to our office. Patients will get supportive care in a nonjudgmental environment.

For more information visit us:

14 DeKalb Avenue, 4 floor
Brooklyn, NY 11201
718 369-1900
https://www.brooklynabortionclinic.nyc/
PRE-OPERATIVE ABORTIONS INSTRUCTION:
DO NOT EAT, DRINK OR SMOKE AFTER MIDNIGHT THE NIGHT BEFORE YOUR ABORTION SURGERY APPOINTMENT TIME. THIS INCLUDES GUM, CANDY, WATER, ETC. IF YOU HAVE ANY CURRENT MEDICAL CONDITION AND ARE TAKING MEDICATIONS PLEASE CONTACT OUR OFFICE SO THAT A TRAINED STAFF MEMBER CAN GIVE YOU INSTRUCTIONS ABOUT WHETHER YOU SHOULD TAKE YOUR MEDICATIONS PRIOR TO THE ABORTION PROCESS.
If you are currently under the care of a medical provider for any medical condition such as:
High Blood Pressure
Seizures
Heart conditions
Do not wear any jewelry, including earrings, bracelets, rings, etc. All body piercing jewelry must be removed. (Especially any tongue or nose piercings), also do not bring any valuables or a large amount of cash.
If you are using your medical insurance for the abortion procedure be aware the verification is required prior to your office visit. Please give us a call and one of our staff members will verify your insurance.
We do request from patients to bring a valid picture ID along with your insurance card on the day of your appointment.
Two to three hour visit
Termination of pregnancy is done in our office in a two to three hour visit.
During this time our patients are first requested to provide us with important medical history. Once all the information is collected, the patient will be provided with an individualized session in where the types of abortion methods will be explained and questions such as "how do abortions work" and "how late can you get an abortion" will be answered.
To ensure your safety on the day of your appointment, you will go through a series of pre-operative assessments with the medical and counseling staff. You will have:
History and Physical: An individualized session where one of our trained staff members will review your medical history, current physical state and birth control options.
Counseling: During your medical/physical assess the length of pregnancy or gestational age.
Billing: We require your entire fee to be paid before the abortion process is performed. The basic fee for the procedure includes: a review of your pertinent medical history, an educational counseling session, ultrasound screening, routine urine, and blood testing (If requested by your physician), the abortion procedures, anesthesia, and recovery room services. (Please be aware that if you are paying cash an additional fee for the Rhogam injection will be required for those patients that are NEGATIVE RH TYPING).
Payment can be made in cash, or by credit card. For the convenience of our patients, we accept MasterCard, VISA, American Express, and Discover. (We do not accept any Debit Cards). We accept most private insurances including MEDICAID- HMO'S plans.
ANESTHETICS CHOICES:
We offer you the opportunity to select the type of anesthesia that is right for you. You can choose to be awake or asleep for the abortion procedure. Your anesthesia options are described in more detail below.
Local Anesthesia involves the injection by the abortion doctor of pain-stopping medication into your cervix. You will be fully awake during the procedure, but your cervix will be numbed. You can expect to have moderate cramping during the procedure.
General Anesthesia is administered by injecting medication into your vein. This medication will allow you to sleep for the duration of the abortion process. The medication is given by an Anesthesiologist, a physician specially trained in anesthesia or by a Nurse Anesthetist.
LENGTH OF PREGNANCY:
A sonogram is considered the most reliable method of assessing how far you are into your pregnancy. A sonogram is a test that uses sound waves to see your pelvic structures. It will be done during your examination with your physician while you lie down comfortably.
There is little or no discomfort while the sonogram is being performed. Although you may have had a sonogram elsewhere before coming to our abortion clinic, we must perform our own sonogram.
POST-OPERATIVE ABORTIONS INSTRUCTION:
It is essential to follow–up your post-operative instructions as indicated by your abortion doctor in order to maintain your well being and to avoid any abortion side effects during your recovery period. We will provide you with clear, written post-operative instructions prior to your procedure, that way you will be able to discuss them with your physician as needed.
Important tips to remember after the abortion procedure:
To prevent any infection, we will provide you with antibiotics. It is essential that you take all the medications prescribed by your physician in the manner explained.
All Rh-Negative type patients are given an injection of Rhogam following the procedure.
You must have an escort to take you home following the abortion surgery done with anesthesia other than local anesthesia. For your own safety, you must not drive for the remainder of the day.
You will be required to return to our abortion clinic within a two-week period of time after your first visit. During your follow up visit a sonogram will be performed to evaluate the completion and safety of the surgical abortion procedure. Contraceptives options will be also discussed in your follow up visit. If you were referred to our office by your Ob/Gyn physician, we encourage you to return to your physician for your post-operative care. However, complete post-operative care and on-going gynecological services are available at our office for all patients.
Our office has a 24/7 answering service to address any emergencies
Do you have questions regarding the types of abortion methods or which abortion options will be best for you? Would like to schedule an appointment with the top obgyn doctor in Downtown, Brooklyn, please contact our Brooklyn Heights office.
Dr. Amir Marashi, MD
Brooklyn GYN Place
142 Joralemon Street, Suite 4CF
Brooklyn, NY 11201
(Brooklyn Heights)
718-624-0604
Brooklyn Abortion Clinic
14 DeKalb Avenue, 4 floor
Brooklyn, NY 11201
718-369-1900
Disclaimer:
The information provided on this site is intended to educate the reader about certain medical conditions and certain possible treatment. It is not a substitute for examination, diagnosis, and medical care provided by a licensed and qualified health care professional. If you believe you, or someone you know suffers from the conditions described herein, please see your health care provider immediately. Do not attempt to treat yourself or anyone else without proper medical supervision.
Our office has a 24/7 answering service to address any emergencies.